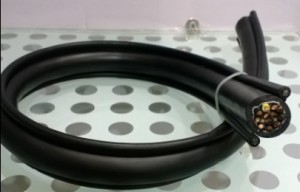 Product Description
Crane Pendant Cable
Made for heavy duty applications in particular for pendant push button stations and moving electromechanical components. The two steel wire ropes are embedded, diametrically opposed to PVC sheathing. The rope cut into length and just hooked to the pendant trolly to avoid any stress on the cable.

Extensively Oil resistant Chemical Resistance
Extremely small bending radius
High Flexibility
Minimum waste of space
Packeting possibility
The materials used in manufacture are cadmium-free and contain no silicone and free from substances harmful to the wetting properties of lacquers.