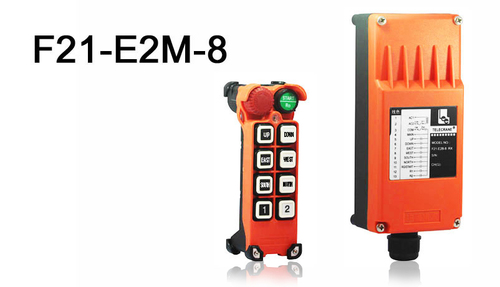 Product Description
CRANE RADIO REMOTE gives freedom of movement and safety to cranes. To manufacture this radio remote, we use optimum quality components and materials. Offered radio remote enables the crane operator to operate crane or hoist. Speed limit function, rechargeable li-ion exchange battery, reliable performance and high efficiency are qualities of offered radio remote. We offer this CRANE RADIO REMOTE for customers in varied specifications as per their requirements.

We are manufacturer and developer of special application Radio remote control.
Providing wide solution for wireless remote control for crane.
We have large number of crane radio remotes ranges available.
Sr No.

Model No.

DESCREPTION

1

F21-2S

SINGLE SPEED

UP/DOWN/OFF

2

F21-2D

DOUBLE SPEED

UP/DOWN/OFF

3

F21-4S

SINGLE SPEED

UP-DOWN/ NORTH-SOUTH/START-E STOP

4

F21-4D

DOUBLE SPEED

UP-DOWN/ NORTH-SOUTH/START-E STOP

5

F21-E1B

SINGLE SPEED

UP-DOWN/ NORTH-SOUTH/EAST-WEST/ON-OFF

6

F24-6S

SINGLE SPEED

UP-DOWN /NORTH-SOUTH/ EAST-WEST/ START-E STOP

7

F24-6D

DOUBLE SPEED

UP-DOWN /NORTH-SOUTH/ EAST-WEST/ START-E STOP

8

F23-BB

SINGLE SPEED

UP-DOWN/ NORTH-SOUTH/EAST-WEST/2 SPARE/ ON-OFF

9

F24-8S

SINGLE SPEED

UP-DOWN/ NORTH-SOUTH/EAST-WEST/

2 SPARE/ START-E STOP

10

F24-8D

DOUBLE SPEED

UP-DOWN/ NORTH-SOUTH/EAST-WEST/

LIGHT & SPARE/ START-E STOP

11

F24-10S

SINGLE SPEED

UP-DOWN/ NORTH-SOUTH/EAST-WEST/

4 SPARE/ START-E STOP

12

F24-10D

DOUBLE SPEED

UP-DOWN/ NORTH-SOUTH/EAST-WEST/

4 SPARE/ START-E STOP