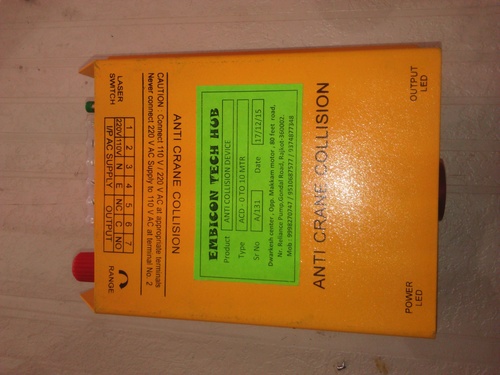 Product Description
Our offered EOT Crane Anti Collision Device is used for crane anti collision system. This product is designed and manufactured using advanced technology and quality tested components by our team of adroit engineers in adherence with industry set norms. Our quality tested anti collision device is applauded for giving excellent results therefore it is highly appreciated by clients in the market. This EOT Crane Anti Collision Device is used in cranes and hoist for avoiding collision.

The Anti–Collision Device (ACD) is a self-acting microprocessor-based data communication device designed and developed by Embicon Tech hub for Application of Crane Anti collision system.
For Laser base EOT Crane Collision avoidance system and make crane safety. Embicon is leading manufacture of Crane spare and safety Device.
The Anti-collision system is a safety device to avoid to collision of two electric overhead traveling cranes working on the same rails. For one pair of cranes two sets of anti-collision systems are required. Each set consists of an Emitter/sensor module and a Reflector.
The System works on the principle of retro-reflective infrared waves. It consists of an emitter and sensor module and a special reflector. The emitter emits the infrared waves in the direction of the reflector. The reflector reflects these infrared waves back to the sensor. The sensor senses the presence of these reflected infrared waves and activities an alarm signal and stops/reduces the speed of the cranes. Thus if the two cranes are away from each other then the reflected waves will not reach the sensor and the cranes operate normally. The sensing distance is adjustable between 3 to 10 meters. The anti collision system is specially designed for the crane application and is suitable for the continuous duty.
SPECIFICATIONS:
Supply : 110 V AC & 220V AC, 50 Hz
Range : 3 / 10 / 15 / 20 /30 Meters Available
Output : Potential free contact rated at 5 Amp @ 230V AC
Indication : LED
Laser Alignment Tool for alignment of reflector and control unit.
Terminal Strip Connections:
1. P – Phase 220V AC CAUTION : Connect 110V / 220V AC
2. P – Phase 110V AC at appropriate terminals.
3. N – Neutral Never connect 220V AC supply
4. E – Earth to 110V AC terminal No. 2
5. NC -OUTPUT – Normally closed contact
6. C -OUTPUT – Common
7. NO -OUTPUT – Normally open contact