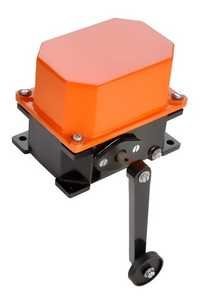 Lever Type Limit Switch
Product Description
This Lever Type Limit Switch is demanded in the EOT cranes and wagon shunting devices for its safe operation. This limit switch is manufactured using powder coated aluminum die cast. It has 500 V.A.Crated voltage insulation. We offer varied specifications and sizes of Lever Type Limit Switch to meet different needs of customers. Our offered limit switch is known for it easy to fix, crack resistant and simple to use.

Lever Type Limit Switch is used for heavy duty E.O.T. Cranes, Wagon shunting devices etc.,
to prevent over traveling or over traversing on power and control circuit up to 500 volts
A.C. 50 Hz and 10amps and 40 amps current rating.


Technical Data:
Body Material : Powder Coated Aluminum die cast
Degree of Protection : IP-55
Mounting Position : Floor
Cable Entries : 2, 3/4" Conduit
Contact : Double break silver cadmium
Wire Connection : Screw terminal
Rated Voltage Insulation : 500 V.A.C.
Thermal Test Current : 10/40 Amps.