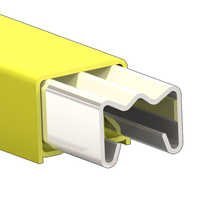 PIN JOINT SHROUDED BUS BAR
Product Description
Our offered range of PIN JOINT SHROUDED BUS BAR is used for power transmission. This is fabricated using utmost quality brass and other material. Offered bus bar is very safe and economical way to supply electric power to cranes. This is inspected and checked on various parameters, ensuring high strength, precise design, smooth finishing and fine finishing. Its pin type conductor bar length is 4.5 Mtr. PIN JOINT SHROUDED BUS BAR is used in power plant, engineering company, electrical plants, railways and defence industries.

PIN JOINT SHROUDED BUS BAR
are used for power transmission. Conductor Bar provide a safe & economical supply of electric power for track guided Mobile machinery. Single Pole individually insulated conductors. Ideally used for EOT Cranes etc. 60 to 400 Amps. ratings.
Technical Data Sheet :
Pin Joint for Proper Alignment.

60 to 125 Amps. Galvanised Iron.

160 to 400 Amps. Copper.

1 Pole / 3 Pole / 4 Pole Hangers.

Pin Type Conductor Bar Length 4.5 Mtr.

1500 mm to 6000 mm Radius.

System up to 150 Meter Without expansion joint.
Features :
Touch proof, no exposed live part.

Quick & easy Installation.

Insulating cover shaped to shed from water and dust.

Single Pole individually Conductors.

Suitable for Indoor / Outdoor Installation.