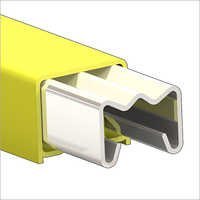 Pin Jointed Busbar System
Product Description
Pin Jointed Busbar
Pin Jointed Conductor bars are used for power transmission. Conductor Bar provide a safe & economical supply of electric power for track guided Mobile machinery. Single Pole individually insulated conductors. Ideally used for EOT Cranes etc. 60 to 400 Amps. ratings.
Technical Data Sheet :
Pin Joint for Proper Alignment.

60 to 125 Amps. Galvanised Iron.

160 to 400 Amps. Copper.

1 Pole / 3 Pole / 4 Pole Hangers.

Pin Type Conductor Bar Length 4.5 Mtr.

1500 mm to 6000 mm Radius.

System up to 150 Meter Without expansion joint.
Features :
Touch proof, no exposed live part.

Quick & easy Installation.

Insulating cover shaped to shed from water and dust.

Single Pole individually Conductors.

Suitable for Indoor / Outdoor Installation.