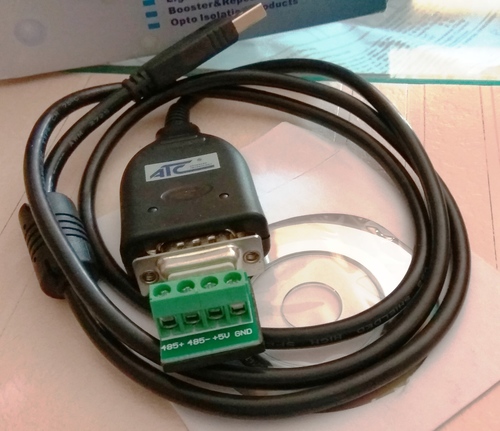 Product Description
UsbToRs 485 Cable Converter supports remote wake-up and power management. With maximum 1200m cable length and power from the USB port, offered product is used to transmission ethernet electric signals into optical signals. The advantage of UsbToRs 485 Cable Converter is high security, reliability, long distance, transmission speed, low cost, saving non-renewable resources. Moreover to this, our offered product is suitable for all metropolitan local area networking applications.

Usb To Rs 485 Cable Converter

Atc Usb To Rs 485 Cable. Providing Usb To Rs 485 Converter.Atc 820 Cable.
Operational system virtual serial port driver.

Support remote wake-up and power Management.

Every time same COM number when use 1 MBPS data transfer rate.

USB Specification rev.1.1/2°0 compliant Operational system virtual serial port driver.

Automatic flow control for RS485 Half Duplex.

MaximumRS-485 cable length : 1200 m

Support the RS485 Serial interface

Maximum number of devices in the RS485 network: Half Duplex to 32 devices

Power: from the USB port.

RS-485 bus protection: 600W.

USB connection: Mini-B connector. 100cm cable with the module.

RS-485 connector: DB9M or RJ-45 type accepting

ABS enclosure: 67 x 30 x 24 mm(not include cable)

Computer interface : USB V1.1/2.0 Plug and Play

Support : Windows 98/ME/XP/2000/CE' Windows 7 & 8 , MAC & Linux

Trans. rate : from 300 bps to 1Mbps

Signal Indication : Sending data(red) and receiving data(green) LED

Supply : From the USB port

Bus protection 600W

Working Environment : 0 to 70°C, 10 to 90% relative humidity, non-condensing.

Consumption : <100 mA.