Anti Crane Collision System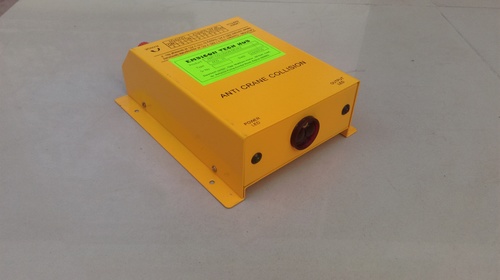 Anti Crane Collision System
Price And Quantity
Product Specifications
Product Description
Anti Crane Collision System

Anti Crane Collision System is a device used for Application of Crane Anti collision system. It avoids collision of two overhead cranes working on the same area. By working on retro-reflective infrared waves principle, offered system is useful for crane and continuous duty. Offered product is known among clients for its qualities like strongly built design, impeccable performance and longer operational life. Also, clients can avail the given Anti Crane Collision System from us at given time frames.
Customers hailing from construction, ports, mining and other industries who use cranes must buy this self-acting system based on a microprocessor. This data communication device by Embicon Tech Hub ensures safety of cranes by avoiding their collision. It is specially useful when two electric overhead travel on the same rails. A pair of this safety device comprising a Reflector and an Emitter/sensor module is required for each pair of cranes. A principle of retro-reflective infrared waves is utilized for the working of this system. The emitter works to emit the infrared waves in the direction of the reflector, which then reflects the waves back to the sensor. As the sensor senses these reflected infrared waves, it quickly activates an alarm signal which either stops or reduces the speed of the cranes. The reflected infrared waves will not reach the sensor, if the cranes travel away from each other. The operator can adjust the sensing distance between 3 to 10 meters.
Benefit of Anti-Collision Technology System

An anti-collision technology system must be in place if you are operating more than one crane in the work space, so that the cranes can operate more freely. The operators of the cranes will feel more relaxed if this system would be in place. As the danger of the collision is minimized, the productivity ultimately improves and the reputation of the owner is protected.
SPECIFICATIONS:
Supply : 110 V AC & 220V AC, 50 Hz
Range : 3 / 10 / 15 / 20 /30 Meters Available
Output : Potential free contact rated at 5 Amp @ 230V AC
Indication : LED
Laser Alignment Tool for alignment of reflector and control unit.
Terminal Strip Connections:

P -Phase 220V AC CAUTION : Connect 110V / 220V AC
P -Phase 110V AC at appropriate terminals.
N -Neutral Never connect 220V AC supply
E -Earth to 110V AC terminal No. 2
NC -OUTPUT: Normally closed contact
C -OUTPUT: Common
NO -OUTPUT: Normally open contact