Crane Pendant Station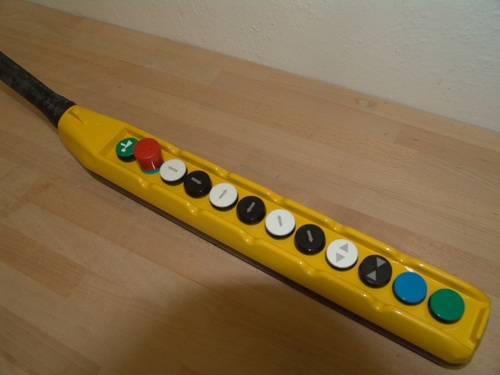 Crane Pendant Station
Price And Quantity
Product Specifications
1.2 A Megaampere ( MA)

Pendant Station
Product Description
Crane Pendant Station

Our offered Crane Pendant Station is used in cranes for operating cables, lifts, etc. Resistant to breakage, easy to operate, sturdy and durable are qualities of offered pendant station. We make available this pendant station for customers in different specifications and sizes as to suit their requirements. In addition to this, we offer this sturdily build Crane Pendant Station at cost effective rates to clients.
Buy this crane pendant station to easily control the movement of crane. The operator using this hand-held wired pendant can move the crane up and down, front and back. It often dangles from the crane like a pendant, therefore is termed as pendant station. It is generally connected to the hoist, which limits the chances of accidentally dropping it or even misplacing it. It is powdered from the similar source that powers crane. Therefore, no battery charging or battery replacement is required.
The pendant is protected against damages. Our company supplies completely assembled pendant station that is reliable, safe and durable.
IP-65 Enclosure
Make: Giovenzana /Schneider
Details
| | |
| --- | --- |
| PART NO | Description |
| | Single Speed Single Row |
| TLP2 | 2 Button Single Speed |
| TLP3 | 2 Button Single Speed with Emergency Stop |
| TLP4 | 4 Button Single Speed |
| P02-1 | 2 Button single speed |
| P03-1 | 2 Button single speed + 1Emergency |
| PL05/E | 4+1 Single Speed with Mechanical Interlock + 1Emergency Stop |
| PL07/E | 6+1 Single Speed with Mechanical Interlock + 1Emergency Stop |
| PL08/E | 6+2 Single Speed with Mechanical Interlock + 1Emergency + 1Start |
| PL10/E | 8+2 Single Speed with Mechanical Interlock + 1Emergency + 1Start |
| PL10/SPL | ( with Lamp or Selector Switch or Key Switch) |
| PL12/E | 10+2 Single Speed with Mechanical Interlock + 1 Emergency + 1Start |
| PL12/SPL | ( with Lamp or Selector Switch or Key Switch) |
| | Single Speed Double Row |
| PLB04/E | 2+2 Single Speed with Mechanical Interlock + 1 Emergency +1Start |
| PLB06/E | 4+2 Single Speed with Mechanical Interlock + 1 Emergency +1Start |
| PLB06/SPL | 6 Single Speed Push Button with Mechanical Interlock |
| PLB08/E | 6+2 Single Speed with Mechanical Interlock + 1 Emergency +1Start |
| PLB10/E | 8+2 Single Speed with Mechanical Interlock + 1 Emergency +1Start |
| PLB10/SPL | |
| PLB12/E | 10+2 Single Speed with Mechanical Interlock + 1 Emergency +1Start |
| PLB12/SPL | |
| PLB14/E | 12+2 Single Speed with Mechanical Interlock + 1Emergency + 1Start |
| PLB14/SPL | |
| | Two Speed Single Row |
| P02D2 | Two Speed 2 Push Button |
| P03D2 | Two Speed 2 Push Button +1 emergency |
| PL05D2/E | 4+1 Two button 2 Speed with Mech. Interlock + 1 Emergency |
| PL05D4/E | 4+1 Four button 2 Speed with Mech. Interlock + 1 Emergency |
| PL07D2/E | 6+1 Two button 2 Speed with Mech. Interlockl + 1 Emergency |
| PL07D4/E | 6+1 Four button 2 Speed with Mech. Interlockl + 1 Emergency |
| PL07D6/E | 6+1 Six button 2 Speed with Mech. Interlockl + 1 Emergency |
| PL08D2/E | 6+2 Two button 2 Speed with Mech. Interlock +1 Emergency + 1Start |
| PL08D4/E | 6+2 Four button 2 Speed with Mech. Interlock +1 Emergency + 1Start |
| PL08D6/E | 6+2 Six button 2 Speed with Mech. Interlock +1 Emergency + 1Start |
| PL10D4E | 8+2 Four button 2 Speed with Mechanical Interlock +1 Emergency + 1Start |
| PL10D6/E | 8+2 Six button 2 Speed with Mechanical Interlock +1 Emergency + 1Start |
| PL10D8/E | 8+2 Eight button 2 Speed with Mechanical Interlock +1 Emergency + 1Start |
| PL10D/SPL | |
| PL12D10/E | 10+2 Ten button 2 Speed with Mechanical Interlock +1 Emergency + 1Start |
| PL12D/SPL | |
| | Two Speed Double Row |
| PLB04D2/E | 2+2 Two button 2 Speed with Mech. Interlock +1Emergency +1Start |
| PLB06D2/E | 4+2 Two button 2 Speed with Mech. Interlock + 1 Emergency +1Start |
| PLB06D4/E | 4+2 Four button 2 Speed with Mech. Interlock + 1 Emergency +1Start |
| | |
| PLB08D2/E | 6+2 Two button 2 Speed with Mech. Interlock +1 Emergency + 1Start |
| PLB08D4/E | 6+2 Four button 2 Speed with Mech. Interlock +1 Emergency + 1Start |
| PLB08D6/E | 6+2 Six button 2 Speed with Mech. Interlock +1 Emergency + 1Start |
| | |
| PLB10D4E | 8+2 Four button 2 Speed with Mechanical Interlock +1 Emergency + 1Start |
| PLB10D6E | 8+2 Six button 2 Speed with Mechanical Interlock +1 Emergency + 1Start |
| PLB10D8E | 8+2 Eight button 2 Speed with Mechanical Interlock +1 Emergency + 1Start |
| PLB10SPL | 8+2 Six button2 Speed with +Key switch+ Lamp +1 Emergency + 1Start |
| PLB12D10 | 10+2 Ten button 2Speed with Mechanical Interlock +1 Emergency + 1 Start |
| PLB12SPL | 10+2 Eight button 2Speed + Key switch +Indicating Lamp+1 Emergency + 1 Start |
| PLB14D12 | As per customer combination requirement |
Trade Information
Telegraphic Transfer (T/T), Letter of Credit at Sight (Sight L/C), Letter of Credit (L/C), Cheque, Cash in Advance (CID), Cash Advance (CA)

100 Per Day