ELECTRO HYDRAULIC THRUSTER BRAKE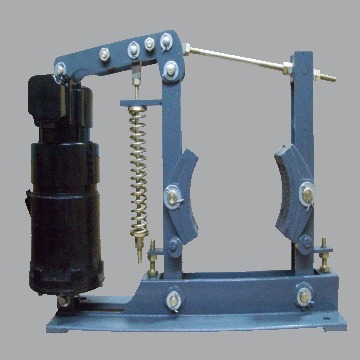 ELECTRO HYDRAULIC THRUSTER BRAKE
Price And Quantity
Product Specifications
Product Description
Embicon is the leading manufacturer of Electro hydraulic Thruster Brake. Our mill duty Thruster Brakes are suitable for 400/440 Volts, 3 Phase A.C. supply for a wide range of drum sizes, from one hundred mm to six hundred mm diameter. Higher sizes can also be supplied against specific requirements. The brake is applied by the tension of the compressed springs mounted vertically between the thruster and brake lever. The thruster rods are connected with the brake by means of an angle lever. As the piston travels upwards the angle lever turns, pushes the brake rod and compresses the brake spring. Simultaneously, the brake lever on the other side of the wheel (Brake Drum) is retracted.

The brake lever at the thruster begins to move when the first lever reaches the stop on the brake base member. The thruster and the brake are accordingly adjusted so as to reserve about 1/3 of the stroke for compensation of the wear of the brake linings. Its main use lies in the speed retardation of the operating machinery. Offered is a heavy-duty brake, which can efficiently work in the severe conditions.
The electro hydraulic thruster brake should be filled with an optimum quality transformer grade oil. The filling task is done with the assistance of upper oil filling plug. Provision for the removal of air is also available. Since, it has been made from mild steel and some other, it can resist the corrosion. The actuation made by this is smooth and trouble-free.
Thruster brakes are suitable for:
400 /440volts, 3 Phase, 50 Hz A.C.
Drum Diameter : 100 to 600 MM
Braking torque : 6Kg.M. to 580 Kg.M.
Easy Installation & maintenance
Reverse action version available
Self adjusting lining wear mechanism
Hydraulic / pneumatic actuator
Gentle action, simple control, high performance.