Eot Crane Anti Collision Device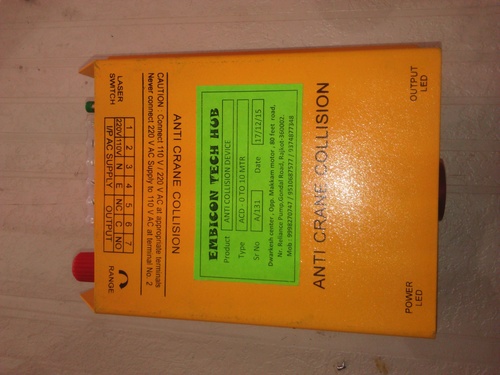 Eot Crane Anti Collision Device
Price And Quantity
Product Specifications
Product Description
Eot Crane Anti Collision Device
Our offered EOT Crane Anti Collision Device is used for crane anti collision system. This product is designed and manufactured using advanced technology and quality tested components by our team of adroit engineers in adherence with industry set norms. Our quality tested anti collision device is applauded for giving excellent results therefore it is highly appreciated by clients in the market. This EOT Crane Anti Collision Device is used in cranes and hoist for avoiding collision.
The Anti Collision Device (ACD) is a self-active data communication device that features a microprocessor. Embicon Tech Hub has designed and developed this EOT crane anti collision device for Application of Crane Anti collision system and Laser based EOT Crane Collision avoidance system. This device is capable of preventing collision of two cranes, mainly electric overhead cranes operating on the same rails. There are two sets of anti-collision systems used for a pair of cranes. A set comprises a reflector and an Emitter/sensor module. An emitter in the system works to emit the infrared waves towards the reflector and the reflector reflects these waves back to the sensor. As soon as the sensor senses these reflected waves, it activates an alarm signal which either stops the cranes or reduces their speed. This system will not hinder the operation of cranes, of they are operating away from each other. It is possible to adjust the sensing distance between 3 to 10 meters.
Who Can Be Benefited?

By using EOT crane anti collision device, all contractors and owners of construction, logistics, mining and other business can be benefited. This system not only ensures the safety of personnel working or prevents loss of work time, but also maintains the reputation of the contractors and owners which might be affected with the negative publicity due to any accident on-site.
Specifications:
Supply : 110 V AC & 220V AC, 50 Hz
Range : 3 / 10 / 15 / 20 /30 Meters Available
Output : Potential free contact rated at 5 Amp @ 230V AC
Indication : LED
Laser Alignment Tool for alignment of reflector and control unit.
Terminal Strip Connections:

P -Phase 220V AC CAUTION : Connect 110V / 220V AC
P -Phase 110V AC at appropriate terminals.
N -Neutral Never connect 220V AC supply
E -Earth to 110V AC terminal No. 2
NC -OUTPUT:Normally closed contact
C -OUTPUT: Common
NO -OUTPUT: Normally open contact