Multi Channel Load Manager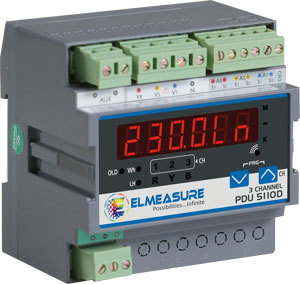 Multi Channel Load Manager
Price And Quantity
Product Specifications
Product Description

This Multi Channel Load Manager is widely application in remote reading and control and building management system. It provides 3 times faster data communication to software, saves critical panel space. This is an effective data source for PLC and designed to measure, display and communicate data. The offered Multi Channel Load Manager provide protection to user against electrical or equipment anomalies. In addition to this, offered load manager is used in control panels for managing electrical loads.

A multi channel load manager that provides 3 channel or 9 channel single phase electrical information and is available in two different constructions (96x96mm panel meter or 90x90mm Din Rail).

A technological wonder that provides the customer with 3 times faster data communication to the SCADA/Energy Management Software, saves critical panel space, reduces cabling and best of all reduces the cost of the panel substantially.

Multiple PDU's can be cascaded to measure multiple channels with a maximum of 15 channels in a series with common display unit making up the Power Distribution System (PDS).

The system also allows the user to have multiple meters placed in the panel with a single display unit placed at a remote location.


Applications

For remote reading and control, the PDU is supported by ElNet Software, designed for remote setup and data viewing and analysis
Building Management System: With the open modbus protocol, the PDU can interface any system, such as building management, HMI etc.